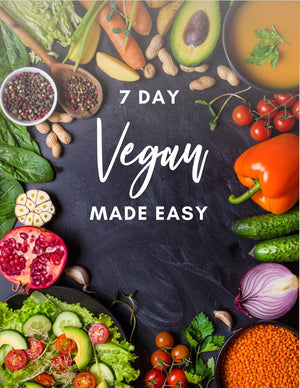 Lover's 7 Day Vegan Made Easy Recipe eBook!
Sale price Price $5.99 Regular price Unit price / per
Just in time for transformation!
I'm predominantly a raw vegan superfoodist, it works best for my body, but it can be quite limiting if you aren't used to a plant-based diet in the first place, which is why as a Certified IIN Health Coach, I wanted to create something that is more like a bridge. 

If you have always wanted to try a vegan diet for a week, a day, a meal, or maybe you just want some new ideas that you can tailor to your personal needs, or even impress family and friends with something alittle different to your regular routine... 
It's flexible and designed as a spring board! Enjoy!

Inside Lover's 7 Day Vegan Made Easy Recipe eBook:

✓ 12 quick, delicious, filling, plant-based recipe and how-to guides for breakfast, brunch, lunch, snacks and dinner, which include superfoods
✓ Easy to follow, flexible 7-day vegan, gluten free planning sheet
✓ Grocery store list that you can print out and take with you
✓ Grocery shopping and food planning tips
✓ Break down of different vegetarian and vegan diets
✓ Extra tips on all things vegan, and more! 
Please also download the FREE Lover's 5 Gut Health Smoothie Recipes eBook, to compliment this eBook. It's the perfect combo to get you into your best body vibes!
Lover Organic Chocolate is not just a heathy chocolate brand, we love to share the knowledge we have.