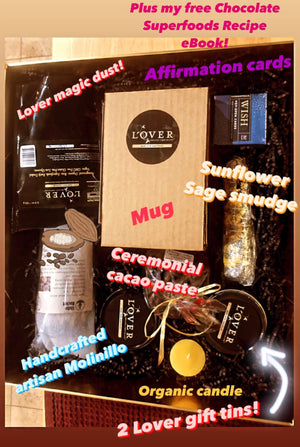 LOVER'S CACAO CEREMONY GIFT BOX / LIMITED EDITION!
Sale price Price $130.00 Regular price Unit price / per
Limited edition!!
I've created a one stop - whole experience - in one box!

Celebrate solo, with loved ones, and set intentions for 2022!

This ceremonial cacao mega box is designed for you to set up and enjoy ceremonial cacao drinks while eating Lover chocolate! Ceremonial grade cacao is a powerful way to shift energy blocks or simply revel in the magic of life with deep gratitude.
Cacao is a magnifier and opens the heart. When our heart is open it's easier to understand what our intuition is telling us. Hence it's easier to navigate ourselves through life. It's also a beautiful way to connect with others and create memories together, sipping away on a sacred hot chocolate with a twist!
WHAT'S IN LOVER'S BEAUTIFUL GOLD BOX?!
2 cans of Lover Organic Chocolate hearts (ceremonial grade cacao)
1 bag of Lover's Magic Dust (ceremonial grade cacao)
200g organic ceremonial grade cacao paste 
1 Lover mug
1 handcrafted artisan Molinollo (authentic wood whisk frother)
Sunflower & sage smudge
1 organic candle 
1 box of affirmation cards
Packaged with eco packaging inside a gold magnetic box! 

PLUS I will also send you a free link so that you can download my eBook "Lover's Chocolate Magic".
This makes the most beautiful and unique gift!
Sets up 2022 just right!
To view the unboxing and instruction videos for Lover's Cacao Ceremony Gift Box HERE : https://www.instagram.com/loverorganicchocolate/