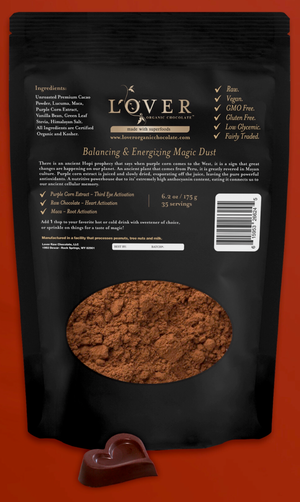 Lover Balancing & Energizing Magic Dust / LIMITED EDITION!
Sale price Price $15.99 Regular price Unit price / per
Enjoy our new LIMITED EDITION chocolate powder! 

There is an ancient Hopi prophecy that says when purple corn comes to the West, it is a sign that great changes are happening on our planet. An ancient plant that comes from Peru, it is greatly revered in Mayan culture, and was an addition to ceremonial cacao too!

Purple corn extract is juiced and slowly dried, evaporating off the juice, leaving the pure powerful antioxidants. A nutritive powerhouse due to its' extremely high anthocyanin content, eating it connects us to our ancient cellular memory.

Purple Corn Extract - Third Eye Activation
Raw Chocolate - Heart Activation
Maca - Root Activation
Organic Ingredients : Single Origin Heirloom Ecuador Arriba Nacional Cacao Powder, Lucuma, Premium Red Maca, Non GMO Purple Corn Extract, Vanilla Bean, Green Leaf Stevia, Himalayan Salt

All Lovers' ingredients are Fairtrade
6.2 oz / 175 g/ 35 servings

Add 1 TSP to your favorite hot or cold drink with sweetener of choice, or sprinkle on things! Enjoy!

P.S! Dipping Lover Organic Chocolate hearts into hot chocolate is known to cause high levels of euphoria!
HOW TO MAKE CEREMONIAL CACAO (VIDEO)

ROCHELLE's LIQUID LOVE RECIPE :
Boil a cup of hot water
Add :
1 TSP Lovers' Balancing & Energizing Magic Dust
1 TSP sweetener of choice
1/2 TSP cinnamon
Mix well !
Add :
1 TBSP coconut icecream
Enjoy!
Shipping : Because Lover Magic Dust is a new Limited Edition item, it ships separately to all other Lover chocolate products at this stage. This will change soon :)

We use USPS.
Please note, as a Limited Edition item we ship your Lover Magic Dust every Thursday.

Also please read our POLICIES at the bottom of this website. 

Due to Covid-19 please understand that there may be delays in delivery, not from our end but due to the postal service. 

Have a beautiful day!